Gifts That Count
Consider making a donation to help us educate the public and to help us find a cure. It's incredible to see the changes that occur as a result of someone getting timely, accurate and helpful information; which your donations help to make available. The available options for making a gift or donation to the BEB Canadian Research Foundation (BEBCRF) are as follows:
Individual Giving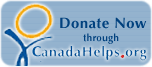 There are two ways that an individual can make a tax deductible donation to help improve the quality of life of people living with Benign Essential Blepharospasm disease:
1) If you wish to donate using a credit card you may do so via Canada Helps.

2) To donate by phone, call CanadaHelps Toll-Free at 1-877-755-1595
(9:00 AM to 5:00 PM EST, M-F, except statutory holidays).

3) To make your donation by mail, please make your cheque payable to the BEB Canadian Research Foundation Inc. and mail to:
BEB Canadian Research Foundation
107 Winners Circle
Toronto, Ontario, Canada M4L 3Y7
Planned Giving
Canadians are helping by making "planned gifts". A planned gift is a special gift for the future. It is arranged now, usually within an individual estate or financial plan, but actualized at a later date. There are many ways to donnate planned gifts: through donnations of shares in companies, life insurance, annuities and bequests. The Canadian Foundation has developed a planned-giving program to provide friends of the Foundation with information about how they can make a significant contribution to the continuance of our mission and eventual cure for blepharospasm.
Tributes
Tributes honour or pay tribute to someone on a special occasion or say thank you. Make your contribution and we will send out a personalized Tribute Card to the recipient. Send a Tribute Card:
To thank a special person, or,
To mark a special occasion or milestone such as:
a birthday
a wedding
a bar/bat mitzvah
an anniversary, graduation
the opening of a store, medical or legal practice
moving to a new home
In Memoriam
You may choose to honour a loved one with a donation in their memory. A personalized card will be sent with a message of your choice to a designated family member or loved one.
Information
For further information on any of these Personal Giving Options, please contact us via mail or call our toll-free number and someone will be glad to assist you.